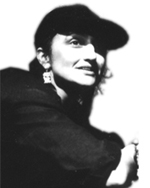 Deborah Ann DeSnoo
Producer / Director / Writer / Performer
Recent Works
President of PLUG-IN
Supervisor and Artistic Director of Crane River
Fluent in Japanese, Deborah Ann DeSnoo has performed in over 60 theatrical and television productions in Japan since 1984. An award-winning veteran theater director, she holds the distinction of being the first foreign director invited to join the Nihon Enshutsu-sha Kyokai (Japan Directors' Association). A.F.I. Alumni. She is also a member of the DGA (Director's Guild of America).
DeSnoo began her career as an actor/director in Boston and New York City. She came to Japan in 1980 to study Noh Theater (Classical Japanese Drama) with the internationally known Noh actor, Hideo Kanze. In 1983 she wrote, directed and starred in a one-woman play presented at Bungeiza Le Pillar, which resulted in an invitation to perform at the prestigious Shinbashi Enbujo Theater and an offer to direct for NLT (National Literature Theater). The following year TBS (Tokyo Broadcasting System) produced WAGA AI, an award winning hour length documentary featuring DeSnoo.
During her residence at NLT she directed a number of productions including the highly acclaimed and award winning ARSENIC AND OLD LACE. She has also directed for Mingei, and Mezamashi Dokei, as well as a number of independent productions including two operas and DREAM ANGEL, a musical circus extravaganza sponsored by the Ashahi Shibun, Television Asahi, the Sports Shinbun and POV.
DeSnoo began working in film in 1985 as second unit director and line producer in Japan for "TALES OF MEETINGS AND PARTINGS" a short film that was nominated for an Academy Award in 1985. She went on to direct a video package of THE LITTLE MERMAID for Kodansha / Disney as well as a number of projects for TDK. Honored with a fellowship from the American Film Institute's Directing Workshop for Women in 1993 DeSnoo produced, directed and wrote CORPORATE WARRIOR, a short film which has been screened worldwide. Since 1999 she has been producing and directing original work in the digital video format.
At present, she is commuting between her Los Angeles office and Tokyo office in her role as executive producer, producer, director and writer for a documentary film series, Japan : Memoirs of a Secret Empire. This series started filming in Himeji castel in spring 2002, and filmed in Dejima, Sendai(Kagoshima), Hagi, Aizuwakamatsu, Fukushima, Nikko(Toshogu ), Osaka(Osaka castle) and Kyoto(Nijojo), finished filming in autumn 2002. This series will be broadcast on PBS in the U.S. and is being distributed worldwide by DDE.